Happy Birthday Eagle Dispatch!
Following 99 years of contributing to spreading news to the students of Woodrow Wilson, The Eagle Dispatch has hit its 100 year milestone.
"We are very excited to be celebrating 100 years and couldn't be more grateful for the ongoing support, thank you to everyone who has helped The Eagle Dispatch grow" announced Assistant Editor, Victoria DeJarnette.
Originally started as High School Bulletin in 1923, the then members called for a name change to The Eagle Dispatch in 1933. For a short period of time The Eagle Dispatch took a small break due to covid, but came back stronger than ever with a new digital format. When speaking to the advisor of The Eagle Dispatch, Lisa Shrewsberry, said, "we just decided when we came back [to publishing] we didn't want an old format and most [people] read online now, so we thought this was best, as opposed to printing." The Eagle Dispatch has made new interactive additions to its online site, like polls and staff profiles.
Throughout the decades, The Eagle Dispatch has continued to spread news about things such as; relationship advice, fashion, the best music at the time, and poems, although the most common thing to be discussed in past issues was sports, especially football. Another big discussion was relevant problems at the time like parking trouble and if they would keep the "smoking section" for students who smoked. Flying Eagle spirit flew highest during the 1950s to early 2000s with the constant celebration of football wins, homecoming queens, JROTC awards and so much more.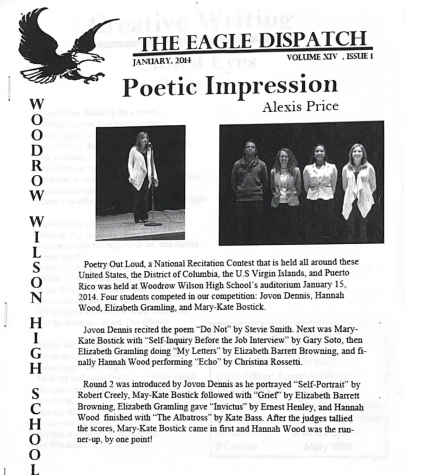 "The Eagle Dispatch is like a time capsule that has captured some of Woodrow Wilson High School's best moments, it's a great accomplishment to look back on and see all the progress made over the years," said reader Haleigha Sharpe-Washington, a WWHS 10th grader.
The Eagle Dispatch staff members want to give a big thank you to everyone who continues to support the newspaper– we greatly appreciate your readership!