Chili night is postponed until October 8th, but is still happening!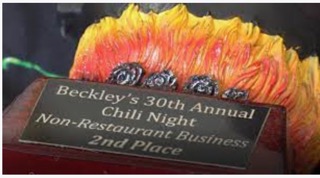 This weekend was supposed to be one of Beckley's most anticipated and time-honored traditions — the 31st Annual Chili Night — but Hurricane Ian had other plans. Jill Moorefield with the City of Beckley just announced that because of the multiple inches of rain expected for Beckley and surrounding areas this weekend, the much-anticipated event is postponed until next weekend, October 8th.  The tasting and other activities will keep a starting time of 5 p.m., when attendees can begin sampling chili from as many as 35 vendors.
In 2020, Chili Night joined the litany of cancellations plaguing the nation. Last year, due to continued COVID-19 restrictions, the event continued but with only 20 vendors. This year boasts nearly twice the choices. Admission is only $5, with five sample tickets and a people's choice token to vote for your favorite business or organization's chili. Unlike the name implies, Chili Night isn't just about chili; there will be a variety of other food, drinks, desserts and activities, including three stages of live entertainment. Myers Amusements' mini-carnival attractions will also feature ride and slide activities for kids. The location of the event will be along Main, Heber, and Neville Streets in Uptown Beckley.
Last year's 1st place winners included Foster's for best restaurant, WJLS for best non-restaurant, and WV National guard for best organization.
Chili Night is still a fantastic way to spend your evening and show some support for your local businesses, restaurants, and organizations, even with the rescheduling. Don't miss out next Saturday because this spicy event only happens once a year!