Write On!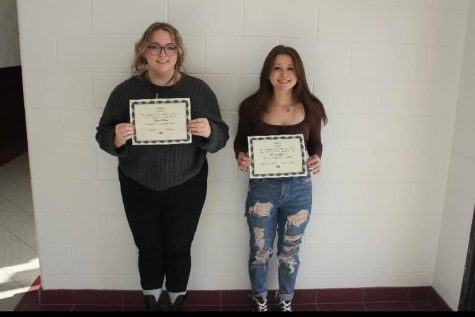 For the West Virginia Young Writers contest, Woodrow is allowed to submit two students; a freshman or sophomore and a junior or senior. This year, Woodrow chose sophomore Allee Adkins and junior Raigan Lytton.
Raigan Lytton is a junior at Woodrow Wilson and has been attending since her freshman year. Raigan loves a variety of topics and greatly enjoys gore and short stories. Even though she's always loved writing, this is the first time she has ever entered the competition. Raigan submitted her story "The Power of the Dark Sky" not expecting to get very far with it. When her teacher told her that she had been selected, she was very shocked, but excited as well. To her, writing was always just a hobby and a form of expression.
Raigan's is a post-apocalyptic story in which a meteor has destroyed the Earth. It follows the perspective of a young person facing the results of a horrible and unfortunate event.
Woodrow's other selected writer Allee Adkins, who is a sophomore, enjoys love songs and true crime. It was this combination that sparked a wonderful tale about a person's struggle with wanting a relationship so desperately, they take things too far. Like Raigan, Allie has always enjoyed writing. She too believes that writing is an important way to express feelings and thoughts.
Both Raigan and Allee have been invited to an event held by the University of Charleston. They are allowed to bring one teacher and a guardian. At this event, they will meet other contestants, listen to lectures about creative writing and if chosen, will read their stories. 
The Eagle Dispatch and the school wish both writers good luck in the final selection of the competition!