WWHS Tennis: What's Not to Love?
 SMACK! The tennis ball soars through the sky and travels over heads, gathering "oohs" and "ahhs"—and that is nothing uncommon for the Flying Eagles tennis team. 
The Flying Eagles started their tennis season on March 16th and currently have a winning record of 8-5(girls) and 11-2 (boys).
This year the team's head coach is Bernard Bostick, with assistant coaches Charles Williamson, Derek Farley and Richard Daniel. 
This year's team has many new and returning faces. For the Lady Flying Eagles—#1 seed Elysia Salon, who has played for the eagles all four years, #2 ,who is new to the team, Abby Dylan, #3, a new face, Izzy Umberger and #4, Karlie Priddy who is a senior. 
For the Flying Eagles, the #1 seed is Ram Asaithambi, a freshman, #2, Rahul Ilangovan  #3, Isaiah Lawrence and #4, Camden Johnson.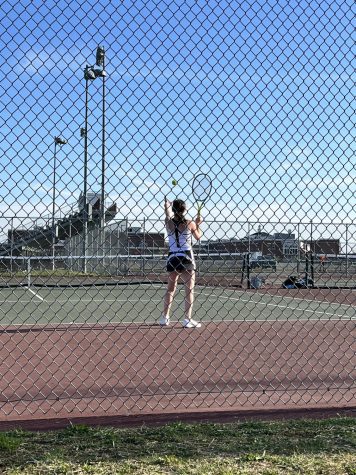 On April 14-16, the Flying Eagles went to the eastern panhandle to play in the annual tennis mixer.
The Flying Eagles went up against Musslemen High School, Martinsburg High School, Spring Mills High School, Jefferson High School and Washington High School.
During the matches, the line-up was a little different than the main roster. For the girls and boys,  #1 and #2 were the same, but #3 for the girls was Karlie Priddy and #4 for the girls was DJ Fragile with alternates Maggie Adkins and Jillian Weatherford. For the boys, #3 and #4 were the same—Lance Christianson and Duagen Frost.
According to Bostick, this trip was to help them hone in on their skills.
Even though this season is coming to an end, the Flying Eagles have accomplished an amazing year.