STUDENTS AT WOODROW WILL NO LONGER ATTEND CLASSES AFTER SPRING BREAK …
After the week of Spring Break, April 18 – 22, students at Woodrow Wilson High School will no longer be attending classes. The reason for this is quite shocking!
Regardless of ditching the rest of the year, all students will  graduate with their honorary high school diplomas. The students' grade point average (GPA) or overall performance does not determine if he or she will receive their diplomas; the only thing that does determine if a student receives a diploma is if they have attended this school year at Woodrow. At all.
Reports from administration tell us that the reason for this is the school has been sold. According to an anonymous realtor and teacher, the building would be better put to use to stimulate the local economy and will be converted into a bed and breakfast called The Eagle's Nest. "While I am sad that students will be leaving this school, I am also excited for the new bed and breakfast and the commerce it will bring to the area," the realtor, who will also be cashing in on a four percent commission, said.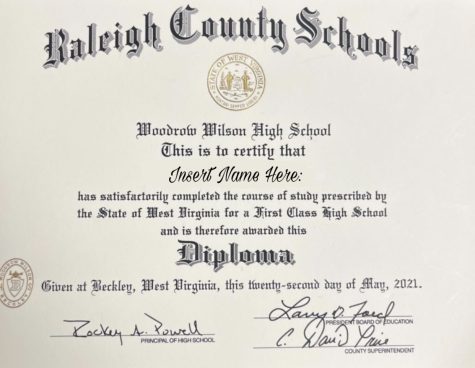 Student reactions were mixed. "What now?" asked one student. "Is The Eagle's Nest hiring?" Said another, more precocious student, "Great! That puts me one step closer to world domination. But, hey, can I keep my 4.48 GPA on my transcripts and will it still be a college preparatory diploma?"
   The school's janitorial staff and cooks will be offered jobs at the boutique hotel; the chefs, as they will from now on be known, will finally be allowed to fix something besides pizza. There is rumored to be a petting zoo in the works at the hotel; this will serve to re-home the displaced Canada geese that have been seen roaming around the campus and area mud holes since the draining of their pond. An actual cage is planned for any impromptu grudge matches that might arise from former-Eagles-turned-patrons who were used to settling their scores in the restroom. The MMA-certified octagon will be accessorized with a commercial grade hanging bag and wrestling mat. Teachers will be relocated to positions at rival schools such as Independence, Shady Spring and Greenbrier East. They will be forced to sign new contracts agreeing to never again wear maroon, to have three side-gigs max, and they will no longer be allowed to use the restroom or internet inside of any Raleigh County Schools building. Oh, wait. They already can't do either of those last two with ease.
If you could not tell by now, this is an April Fool's Day prank from The Eagle Dispatch. We hope that (1) you have a sense of humor and can appreciate satire and (2) that we got you (at least for a while) on this one!