Right On Track
Ready, get set, go! The gun fires as track athletes begin to sprint to their full potential in hopes of reaching the podium. Woodrow Wilson High School recently kicked off their season on March 1st, with their first meet scheduled for April 2nd at Cabell Midland High School. Woodrow has been fairly dominant in the past few years, winning back to back regional championships in the 19-20′ and 20-21′ seasons, with plans to become a three-peat. "Last season we only had 15 kids. It was our most difficult challenge keeping kids healthy and filling out events," said Coach George Barbera. Although last season it was hard with such a small team, Woodrow has more than doubled their athletes since last year. Women's track has a roster full of 38 runners this season, making it the biggest roster school-wide besides football.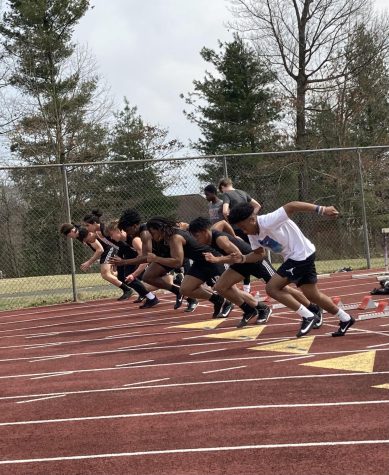 "Track is like a chess match—you throw athletes in different events and by the time regionals arrive, you've figured out the best spot for them," Barbera stated. "(We have) 38 kids, but nobody sits. If you show up and participate, you'll play. That's my policy." 
Barbera believes great things are ahead for this year. "(The runners) have a lot of heart. I have a blast coaching them," he said.
A former track star himself, Barbera is aware of the effort it takes to make it in the sport. "Track, swim and wrestling are the toughest sports an athlete can participate in. Mainly because you are all alone out there. Although a part of a team, your event is an individual event. It takes a lot of mental toughness."