Mikah Alleyne: Running to Success
BANG! The sound of the gun goes off, flooding through your body, blood signals you to run as hard as you can physically push yourself. This is a feeling that's all too familiar to Woodrow Wilson High School alum Mikah Alleyne. She came to join the Track team in the 6th grade thanks to her mother recalling how much she enjoyed running. By the time she reached her 3rd year running in the 8th grade, Mikah had achieved her first victory in the 400-meter dash. This inspired her to keep running and improve herself every time she stepped on the track. Ever since that turning point in the 8th grade, the rest has been history in her renowned 400-meter dash.
After graduating from Woodrow Wilson being an eight-time state champion and undefeated in the 400m throughout her senior year, it was time for Mikah to decide where she wanted to continue her collegiate track career. "I really felt a connection when I got to Marshall when I went on my visit. I felt like I belonged here." This was only just that start of an impeccable college performance that she has put on thus far. Although her Freshman season was cut short due to COVID-19, that didn't stop her from putting on a show in her Sophomore and Junior years. In her Sophomore year at the Conference USA Outdoor Championships, Alleyne set the school record in the outdoor 400-meter dash with a time of 53.45 seconds. In the same year she set the program's 400-meter hurdle record that was later broken by her teammate. Throughout the 2020-21 season, Mikah earned five individual 1st place finishes. So far, this 2021-22 Junior season, she has already set yet another school record. At the 2022 Conference USA Indoor Track and Field Championships in Birmingham, Alabama, she ran a 53.62. If that isn't impressive enough, it wasn't the only record that Alleyne set in Birmingham. Her 4×400 relay team set a new mark for this event running a 3:44.64.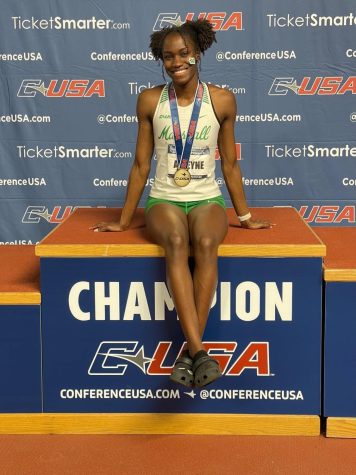 The future is bright for Mikah. She wants to finish her career at Marshall and possibly take a 5th year in the SEC. All while smashing records, she is keeping up with her education and is currently studying to be a Physician Assistant and plans on graduating from PA school. Even after college comes to a close, she says that track will still be in the question, "I have also thought about coaching track and staying on top of using my degree to do workout stuff and help others." Alleyne sees it as such an honor to be representing her Woodrow family not only on the track but with her positivity as well. She wants to be an example to others in similar situations that anything is possible, "Things get tough and it can be easy to be influenced by outside factors but surround yourself by people who love you and are able to lend a hand or words of encouragement when necessary."