An Epic Rappel
Jamie Fazio, a sophomore at Woodrow Wilson, and her family have been rappelling together for more than six years. On Bridge Day 2022, they became the first family to rappel from the highest point of the New River Gorge Bridge at 876 feet.
Fazio is a girl known for not being afraid to try new things, no matter the challenge. Her latest adventure, however, had even her dad, Scott Fazio, who is a seasoned rappeler, scared to take the plunge. He described freezing up the moment he was about to rappel, or descend in a controlled way through a system of ropes and carabiners, while others were parachuting around him, the boom of their opening chutes firing like cannons through the gorge. He was alright after he initially started backing down, trying to remember all of the special safety warnings they'd learned prior in training for this epic drop. The Fazios are used to letting Jamie explore her adventurous interests; rappeling as a family has given them a mutual respect and trust for the local community of rappelers.
The team they are a part of, Extreme Rappels, is based in southern West Virginia, Fayetteville specifically, and joins to rappel monthly. They recently also completed a rappel at Lost Worlds Caverns in Lewisburg, WV. These monthly trips are also ways to practice using their specialized gear. The backpacks they carry weigh approximately 15 pounds each; sometimes they have to carry them for as far as 12 miles. The weight isn't useless, though. Everything is necessary, like the walkie talkies each wears to be sure to stay in contact with the rest of the group, especially in case there's trouble, like the time a fellow rappeler had her hair caught in her rappeling rig and she was literally dangling hundreds of feet in the air before she was rescued. "Everybody protects everybody," mom, Cindy Fazio, explained.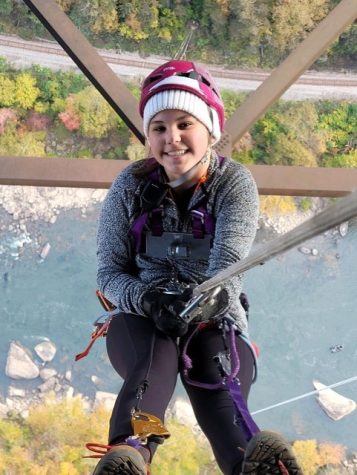 Fazio claims that when she first started rappelling she was not scared or nervous at all. She started training for rappelling at the age of 10. Fazio and her dad wanted to do this so they would not run out of things to do. As a family the Fazios hunt, rappel and rock climb together.